INVENTARIUM

26.1.- 25.2. 2018 Ausstellung und Dauerperformance in der whiteBOX München
Performance mit Joachim Spurloser und Stefan Wartenberg in einer Ausstellung mit Werken von Akim, Brad Downey, Roman Graneist, Jürgen Große, Anna Herms, Matthias Hübner, Thomas Janitzky, Anna M. Kempe, Kevin Kemter, Wilhelm Klotzek, Benjamin Kunath, Christian Schellenberger, Max Stocklosa, Anna Szaflarski, Axel Töpfer und Timm Ulrichs.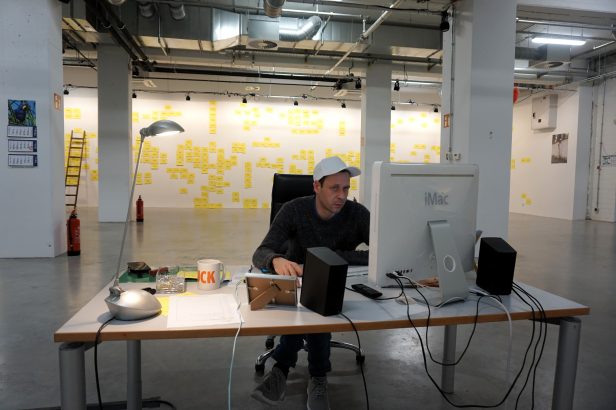 TRUE TO THE TALES – THE HISTORY OF WRITING IS UNWRITTEN
23.5.-2.8.2015 Videoinstallation, Backjumps, Kunstraum Kreuzberg, Berlin
Zeitgeschichte trifft auf individuelle Erinnerung: Die erste besprühte S-Bahn im legendären "Wannsee-Yard", 1980, durch einen New Yorker GI. Eine spektakuläre Backjump-Aktion von SHANE und Freunden im Jahr 1989 am Grenzbahnhof Friedrichstraße – erzählt aus der Perspektive eines ehemaligen DDR-Grenzsoldaten – sowie: eine kuriose Anti-Graffiti-Maßnahme, 1986, durchgeführt von ostdeutschen Künstlern auf der Westseite der Berliner Mauer: die legendäre Aktion "Weißer Strich".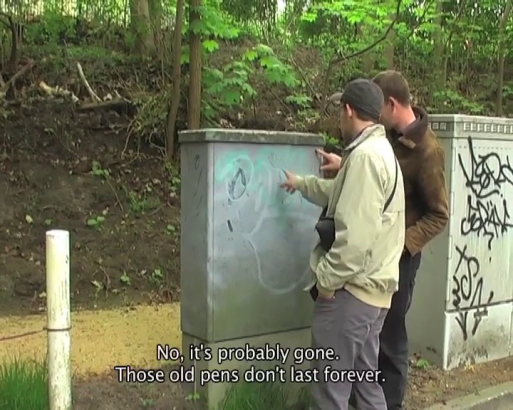 CALYBA
2015, Gedichte, Possible Books
Stefan Wartenberg und Joachim Spurloser haben Graffiti über viele Jahre aufgelesen – und damit Gedichte geschrieben. Ihre Affäre mit dem "Gesamttext", dem Fundus von Graffitinamen als Wortschatz, entfaltet sich als ein Sprachspiel, in dem Fremdes wie Vertrautes, scheinbar Sinnloses wie scheinbar Sinnvolles selbstverständlich und gleichberechtigt auftreten. Losgelöst von ihren ursprünglichen, oft unklaren Bedeutungen und Zusammenhängen gehen die wilden Namen, Zahlen und Abkürzungen der Graffiti hier Beziehungen ein, die von einer Sehnsucht nach Unendlichkeit geprägt sind. Ordnung und Zerstreuung – in Verse gegossen, verformt und entstellt – Graffiti erklingen in CALYBA als das, was es eigentlich immer schon war: Weltsprache und Gestammel.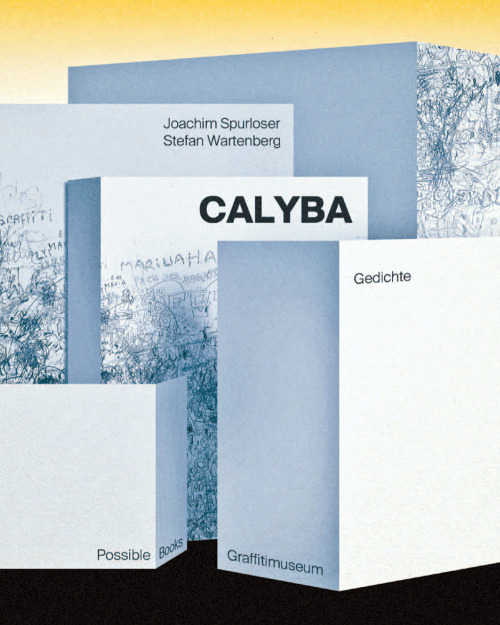 AMERICAN GRAFFITI FOR THE ARAB SPRING
6.9.-3.9.2012, Installation, Video, Stadtführung und Theaterstück auf der Gruppenausstellung "The White Wall" im Beirut Art Center (LB)

"American Graffiti for the Arab Spring" follows a classical concept of representation which focusses on "Kings", "Battles" and "Monuments". The room implies a collection of images, stories, rumours, fakes and speculations which mirror the history of graffiti and its making of. What does the phenomenon stand for today? How did it change on its 40 years long way around the world?
King BRIK ONE 36 from Berlin claims to be the conqueror of Hamras virgin walls, back in 2005. King TRANE, the main character from the graffiti video game "Getting Up – Contents under Pressure" (released in 2006) shall be seen as real type of revolutionary: He is fighting for fame and for freedom. The video "Observation of a Battle" dismantle the dramatization of a TV-feature about the challenge of two graffiti crews in Leipzig who becomes the king of the Ring. At the same time the "War of Words" seems to flower out worldwide, reaching the strangest dimensions. The sky's the limit, cornbread was here, religion called bombing, I am the american dream, still free, before they were silver they were gold, fast drips for urban warriors, … A name starts a life of its own, a soldier becomes a writer, spray cans are promoted as paint bombs and graffiti products transform to monuments. Does the appropriation of the language of war changes the acts of invading the public sphere by signs?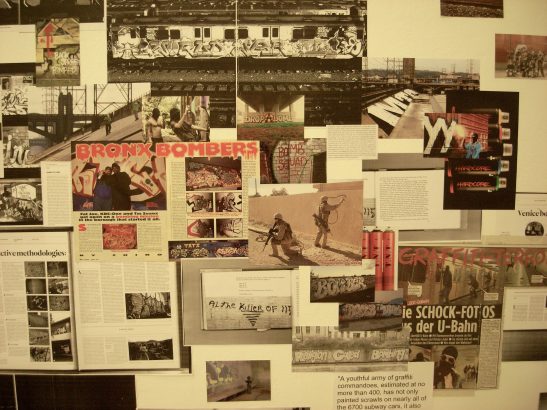 SKRIPTE UNBEKANNTER AUTOREN I-VIII
2009-2012, Theaterstücke, Schauspiel Hannover, Centraltheater Leipzig, Beirut Art Center

"Schau mich an", sagt die Mauer. "Weil du mich anschaust, bin ich."
Im Geiste des Hannoveraner Künstlers, Schriftstellers und Denkers Kurt Schwitters lesen wir Orte der Stadt als Skripte für Theaterstücke ein. Lesarten und Wahrnehmungsvorgänge werden auf der Bühne in Sprache, Handlung und Konflikte übersetzt. Durch unser Spiel wird der Zuschauer an die Texte oder eben Skripte der unbekannten Autoren herangeführt. Er nimmt Teil am Entziffern, am Zur-Sprache-Bringen und am Be-Deuten von Graffiti. Durch unsere Behauptung des Textes auf der Bühne wollen wir potentielle Sichtweisen auf Graffiti in seinem natürlichen Erscheinungsort, in der Stadt, erschaffen. Unsere Stücke setzen sich so bestenfalls noch lange nach ihrer Aufführung fort.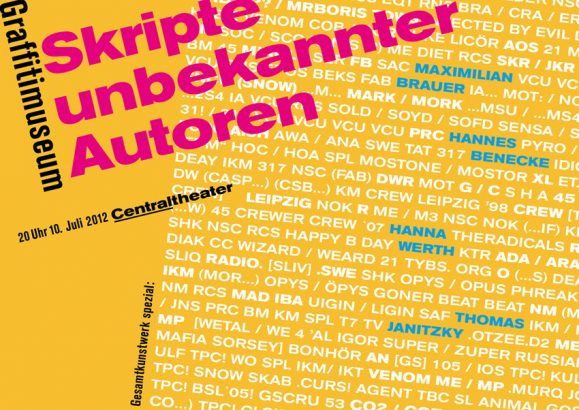 BREMER MENETEKEL
22. /23. 5.2009, Spaziergänge, Performance, Weserburg – Museum für moderne Kunst / Evangelischer Kirchentag, Bremen

"Wer diese Schrift lesen kann und mir kundtut, was sie bedeutet, der soll mit Purpur bekleidet werden und um den Hals die goldene Kette tragen, und er soll als einer der drei obersten Beamten im Reiche herrschen." – Im Buch Daniel erscheint Belšazar eine geisterhafte Schrift an der Wand seines Palastes, die auch die herbeigerufenen Gelehrten nicht verstehen. Zum Kirchentag befragte das Graffitimuseum die Menetekel auf den Fassaden Bremens. Der Spaziergang gestaltete sich als ein Rollenspiel, in welchem die Hand, der König und die Schriftgelehrten von den Teilnehmern verkörpert wurden. Der Frage des Kirchentags "Mensch, wo bist Du?" (1. Mose 3,9) folgend, versuchten wir die Zeichen unter zwei verschiedenen Gesichtspunkten zu lesen: zum einen als Aussage, die sich direkt an uns als Leser richtet und zum anderen als Verweis auf einen Autor, den wir uns vorzustellen versuchen.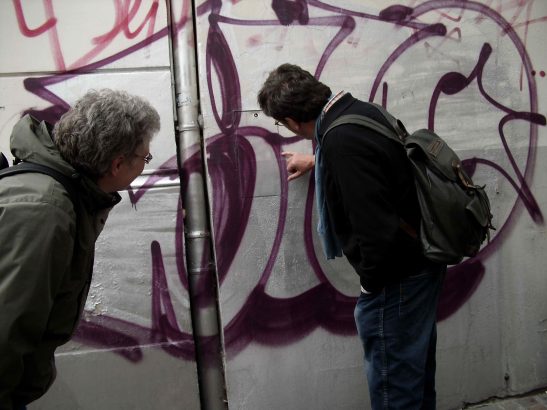 BATTLE OF GRAFFOTI
2007-2019, Game
The Graffitimuseum opens its image archive and displays 100 000 Graffoti (photographed graffiti), which will be reanimated to graffiti. The way of collecting graffiti by taking pictures in a positivist manner ends in mourning. Even the Graffitimuseum was pushed to the natural limits of representation of a Living phenomena. Photographed graffiti is cut out of their habitat – graffoti are preserved like a pierced butterfly. Now they offer the opportunity to slip into their dead shells, graffitican be reborn on stage. The battle of the better performance fills graffiti with life and presence.